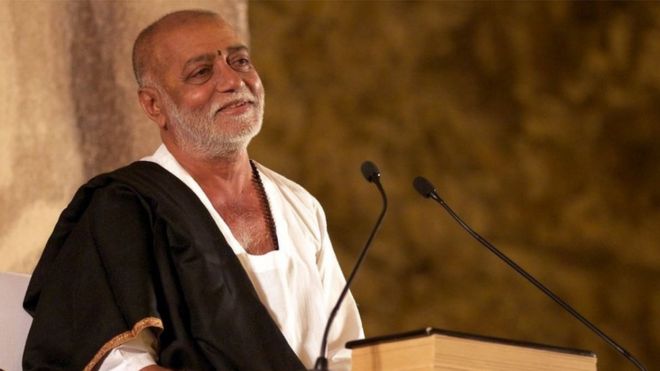 In Gujarat, narrator Moraribapu's statement about Neelkanth does not name the dispute to end.
Many Swarajinarayan saints opposed Moraribapu's statement and many artists of the state came with Moraribapu.
After which the statements from both of them started and many of his videos also went viral.
Now a new twist in the controversy has come when some artists have announced the return of the Ratnakar Award.
Other artists including folk singer Osman Mir, comedian Mayabhai Ahir, singer Kirtidan Gadhvi, writer Jay Vaswada have announced the return of the award.
The Ratnakar Award is given by the Lakshminarayan Devpith of the Department to folk writers, writers and other contributors in the society.
The award also includes testimonials and cash prizes.
What's the whole controversy?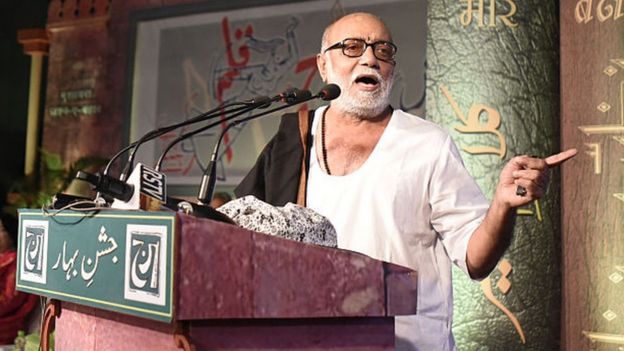 In the backdrop of the entire controversy is the narrator Morariibapu's statement.
At a program in the French capital of Paris, Moraribapu said, " Don't eat laddis and get blue ."
Subsequently, his statement expressed displeasure with the saints of the Swaminarayan sect and those connected with the sect.
However, Moraribapu said in another statement that if any of his words hurt anyone, 'Mishchhami dukkadam'.
The allegations were made by Moraribapu's statement, to question his knowledge.
... but why are artists so upset?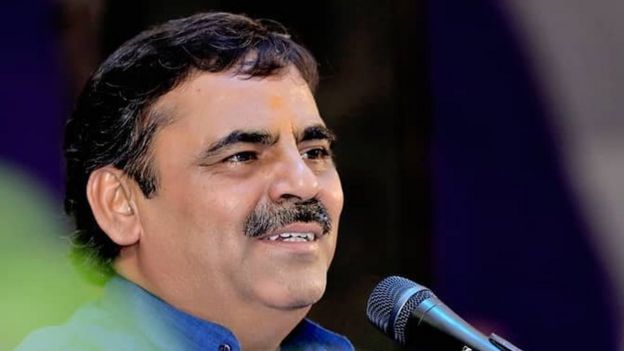 In a program by Saint Vivekasvarupadasji of the Bagsara Swaminarayan sect , Moraribapu's statement was rejected.
He said, "I am deeply saddened by this statement. Even the billions of devotees to Mahadeva do not tolerate that Lord Swaminarayan refutes by keeping Mahadev ahead."
He also went on to cite the artists, "There are many atheists who refute the nature of God and find locksmiths. Even if a good artist performs alcohol, people still make locks."
Unhappy with his statement, Gujarati artists and writers have talked about giving back the Ratnakar Award.
However, in another video, he expressed regret over the Swaminarayan sect's saint Vivekasvarapadasji and said, "There has been controversy about Nilakantha for a long time. Everything else has been settled even though some artists seem to be upset."
"We call the artists in our program and celebrate the Ratnakar Festival. If the artists are upset with the words that are being programmed on stage, we withdraw our words.
What a folk artist and author says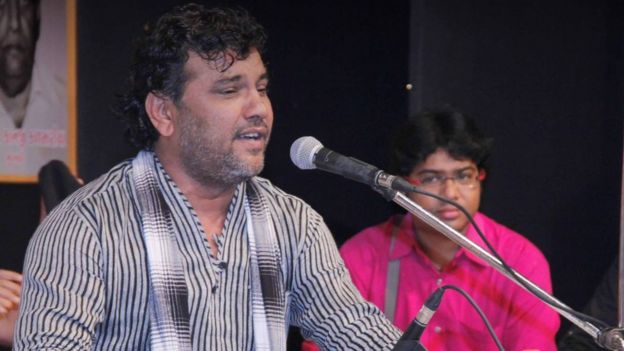 Speaking to BBC Gujarati, Kirtidan Gadhvi said, "It is an insult to an artist to honor an artist and then make such a statement."
"Even if a big saint like Moraribapu apologizes for this, the dispute does not stop."
"Moraribapu has no personal dislike for any sect but it is also true that no sect is bigger than Sanatan Dharma."
"It is not appropriate to enlarge any denomination by showing down the eternal religion."
BBC Gujarati spoke to folk artist Bhikudan Garhvi about this.
He said, "The artists are saddened by two things - one was humiliated by saying 'Drunk comes on stage' and the other, inappropriate words about Moraribapu were also used."
He added, "There is nothing wrong with what Moraribapa said. Other sects have come from Sanatan Dharma."
"My personal view is that such a dispute should not be escalated."
"If the artists have returned the award to cast their vote and Saint Vivekasvarapadasji has also apologized, the dispute should end."
In addition, Maybhai issued a video, citing a statement from Sant Vivekasvarupadasji of Swaminarayan sect of Bagsara, calling it an insult to the entire artist society.
Jay Vaswada wrote in a Facebook post , "My conscience stings at the award of Bapu, who has no respect for the institution, who holds the award and opposes Bapu's unreasonable ignorance, and looks at him every day. I wish I had the choice. "
Is this religious politics?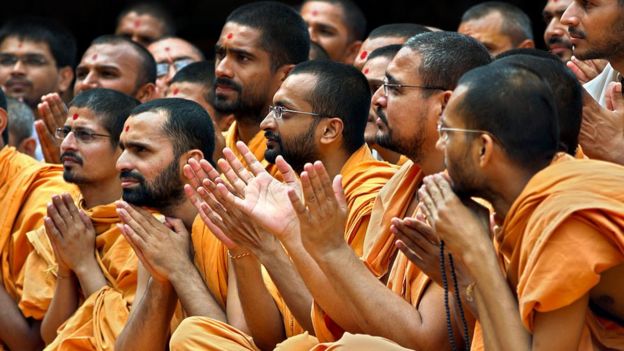 "Are we going through that era when there was a war between Shiva and Vaishnavas in the East?"
"It is true that sects are under the shadow of Sanatan Dharma. But in the Indian system there has been talk of honoring all sects and religions."
"India is a secular country, not a theocratic country where religion is ruled. All sects have been honored here."
"What is happening in Gujarat looks like religious politics are going on."
Emerald, Emerald and controversy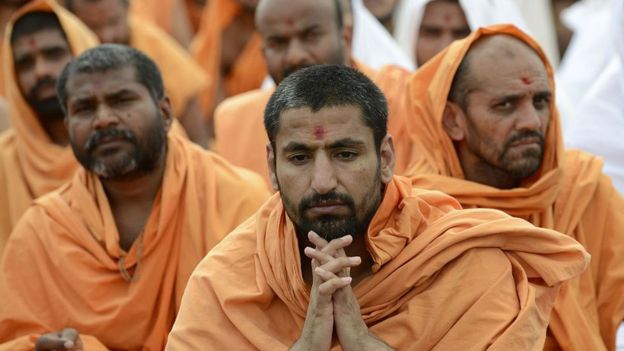 In order to understand the background of the dispute, emeralds and emeralds were also understood.
According to the prevailing belief in Hinduism, while the churning was going on, things were going out one after the other. The gods and demons who were mutually sharing. At that time, calcut poisoned.
When both parties were not ready to take it, they approached Lord Shiva. If the god of slaughter, Shiva, drank poison, it was true, but he did not go down the throat.
But due to the poisoning effect, their throat became blue, hence they became known as Neelkanth.
The Swaminarayan sect is divided into different sects including the Bochasanasi Aksharpurasutam Sanstha, Vadtal Mattress, Kalupur Gaddi, Maninagar Institute, Sokhda Institute.
All these sects consider Swaminarayan as their Aradadeva. One whose name is Neelkanthvarni.
This controversy has arisen in Swaminarayan sect as Prasad is often given the short form of Ladu, namely Ladudi.
However, the narrator Moraribapu apologized for trying to cover up the controversy and said his statement was being viewed without further reference.
Nileshbhai from Moraribapu told the BBC that Bapu had clarified the matter but what can be done if someone wants to raise a dispute?
However, he added that what Moraribapu said about Neelkanth is true.
The Swaminarayan organizations also appealed to the contestants not to charge and debate against the opposition.