Thousands of gemstone artists unemployed
The situation is almost the same for the families of thousands of Surat jewelers.
Those associated with the industry say that the economic downturn that has lasted 18 months is now taking people's lives.
While most companies have reduced their workers' salaries, many have lost their jobs.
The mob of people has become a common occurrence at the Labor Union offices in Surat.
Labor union leaders want a fair settlement between factory owners and jewelers.
Diamond Workers Unions have received complaints of over 10,000 people being unemployed.
Speaking to BBC Gujarati, union president Ramesh Jilaria said, "So far this year, about 20 jewelers have committed suicide and more than 13,000 people have become unemployed."
The Ratnakalakar Vikas Sangh is another such union, which works for the Ratnakar artists.
The president of the union, Jayasukh Gajera, told BBC Gujarati, "The number of unemployed will reach about 60,000 people by the time Diwali arrives."
They say that factory owners have no choice but to remove people, because of the economic downturn in the entire diamond market, people have no money to run factories. "
Why did the diamond industry slow down?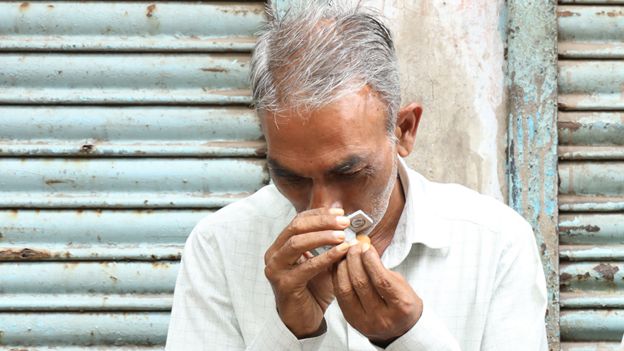 If the international and national events or policies change then diamond industry has a direct impact.
The global recession of 2008 affected Surat's diamond industry. Currently, people are saying that the recession of 2019 is even bigger.
The Goods and Services Tax (GST), which has been in force since April 2017, is considered to be the biggest factor in the diamond industry downturn.
Currently, 18% GST applies in the diamond trade, which was not before 2017, plus the import duty on raw diamonds has not been done before, but it has been gradually increased to 3 stages. Import duty is first imposed at 2%, then 5% and subsequently up to 7.5%.
Speaking to BBC Gujarati, James and Jewelery Export Promotion Council Vice Chairman Colleen Shah said that the tax industry in the diamond industry needs tax reform, as well as labor law, etc.
He further said, "At present, people in the sector are also short of capital because after the bank fraud of Nirav Modi, banks have made it difficult for people connected with diamond industry to get loans."
GST plus cash shortages after debarment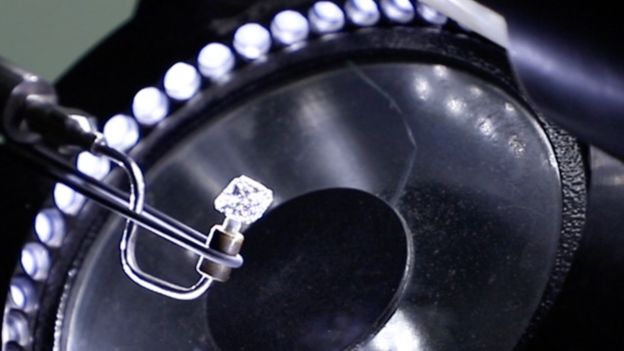 Vitthalbhai Sorathia, who runs a diamond factory, told BBC Gujarati, "The diamond industry is a cashless business; it does not mean that people want to steal taxes, but because more money is involved, people choose to do business only in cash." With the cash business down, the impact is now visible in the market.
Vitthalbhai used to run a factory with his own 15 bells, but due to the recession, he has reduced his bells and craftsmen.
They currently run only 2 down. For this, they hold the notables and the GST liable.
However, in addition to these policies of the government, international events in diamond industry also have a major impact.
Due to the current trade wars in the United States and China, diamond exports have seen a significant decline.
According to a July 2018 report by the James & Jewelry Export Promotion Council, imports of raw diamonds have dropped by about 25.99 percent.
While the export of polished diamonds declined by 18.15%. These figures indicate that diamond industry continues to be influenced by international events.
Talking about this, Mitesh Jasani, a diamond trader in Surat, says, "14 out of every 15 polished diamonds in the world are from India. Hong Kong is a major hub of this trade internationally."
"Due to the ongoing protests in Hong Kong and the political situation there, the export of diamonds is being negatively impacted.
With whom is the diamond industry connected?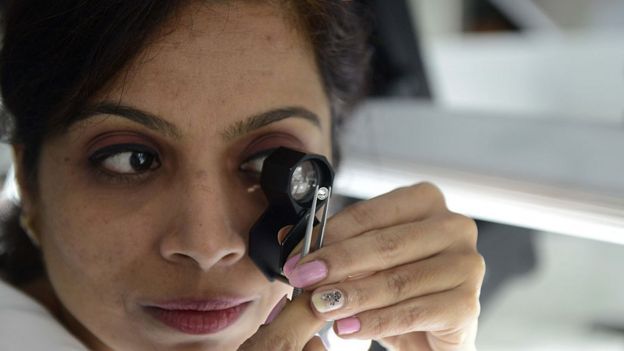 Most of the people working as a jeweler in diamond industry are from Saurashtra region of Gujarat.
Most people are less educated or less educated. After receiving primary education from the rural areas, the youth come to Surat and get training for rubbing diamonds.
The training lasts for about 3 months and then an average person earns around Rs 5,000 a month.
After which the artisan earns according to his ability. Good artisans can earn up to one lakh a month.
According to an estimate by the James & Jewelry Export Promotion Council, there are about seven million people in Surat alone. The nationwide figure is about 11 million people. All these people work in about 7,000 diamond factories in Surat.
How was the Nirav Modi case affected?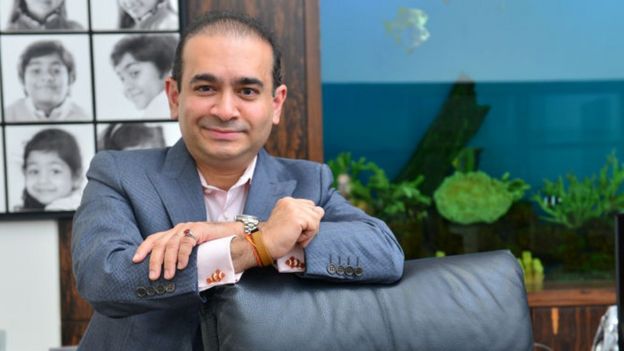 "Nirav Modi of Gitanjali Jewelers has been hesitant to give bank loans to people connected with diamond industry after the scandal with Indian banks, which has made it difficult to get money," says Colin Shah, vice chairman of the James & Jewelery Export Promotion Council.
Talking about this, Jayasukh Gajera, president of the Ratnikalar Vikas Sangh, says, "Banks gave one man enough money that when he could not pay, he stopped giving money to other people even if the owner of a diamond factory did not have money. So how is he going to run his business? "
Where is the diamond industry currently?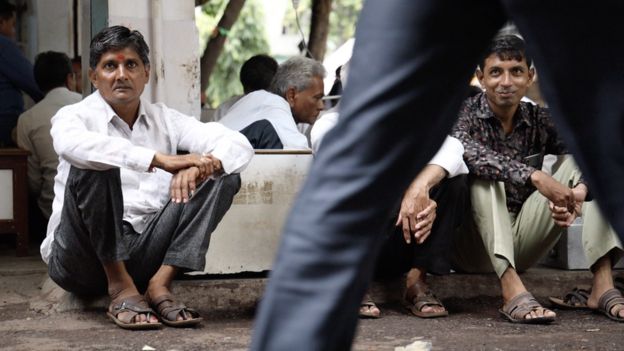 Speaking to BBC Gujarati, Colleen Shah says the turnover in the diamond industry has dropped by 10%. Now the industry's turnover stands at US $ 25 billion.
He says that if there is no proper change in the government's policies yet, this industry will suffer more.
The Surat Diamond Association recently briefed Gujarat Chief Minister Vijay Rupani about the state of the industry.
The association has demanded a package from the Gujarat government, though no positive action has been taken by the government on this.
Speaking to BBC Gujarati, Surat Diamond Association President Babu Kacharia said that the number of people affected by the recession is low. However, we hope that this industry will be back on track soon.