Friday morning in Agra, Uttar Pradesh, it was warm but there was occasional relief from the wind.
But this was not the case for the dozens of men and women who came from such a cool place in the Valley of Kashmir. They were bothered by heat.
Sitting at the gate of Agra's Central Jail, these people came to visit their families inside the jail.
Their faces acted as if they were unfamiliar with the area.
According to media reports, a number of people were detained by security forces and sent to other states. However, the authorities are silent on the matter.
More than 80 people brought from Kashmir have been kept in Agra's highly secured jail.
Sitting in jail waiting for family members to meet them was becoming difficult because of the smell and heat.
'I'll be back in 15 days'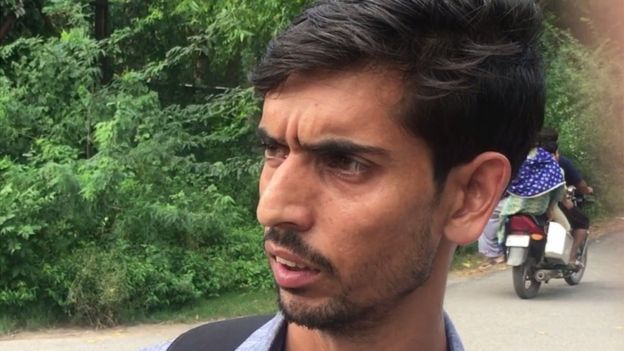 Abdul Ghani requested the officers that the work took place and the officers gave him permission to enter by showing him Aadhar card.
A senior prison official said, "We try to listen to the requests of as many people as possible. If you show support, you can go in and meet."
About an hour later, when Abdul Gani came out, there was a smile on his face. He stayed with his son and nephew for about 30 minutes.
He said, "He was worried. I told him I was all right at home."
He added, "I was annoyed to find out about them. Thank God I met him. I will be back in 15 days."
It was almost four o'clock in the afternoon and when the waiting hall was empty, we saw a woman and a man coming out quickly.
They came from Baramulla. He had come to Delhi from Srinagar on a flight and had come from Delhi to Agra.
He appealed to the jail authorities and he was given time to meet for 20 minutes.
Tariq Ahmed Dar's brother is in jail. His brother has three children.
Tariq Ahmed said, "The jail authorities said that if we had arrived early, we would have got 40 minutes to visit."
A jail official told us that visitors are given time on Tuesdays and Fridays only, so if they miss, they have to wait four days.
Tariq Ahmed said, "I talked to him. His wife, children, old parents all remember him very much. It was a difficult time for him. Now I have seen him and I will tell him that he is right."
'Never threw stones at security forces '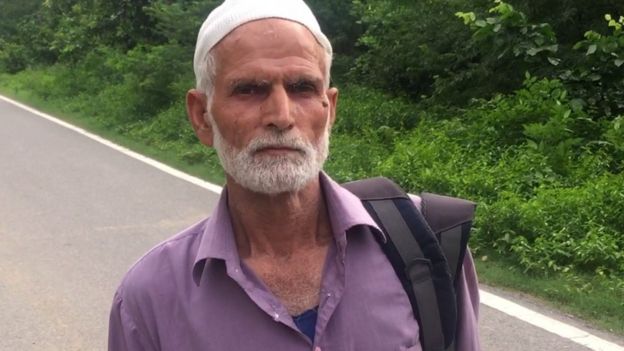 Abdul Gani of Kulgam labors and traveled by train to Delhi. Traveling from Delhi to Bus came to Agra. Both his son and nephew were in prison.
They did not bring the required letter from Kashmir so they were worried.
He says he has spent Rs 10,000 to travel to and from Kashmir to Agra and he has yet to return home.
He said, "I didn't know I had to bring this paper. They were picked up at 2 in the morning. While they were sleeping, the security forces came with three or four carts."
"Nobody told us why they were taken. He never threw stones at the security forces."
After a few hours it was time to cross the gate and enter.
Most of the Kashmiri families came with fresh apples.
One of the family came in with an apple box so he could stay for a long time, but the guard asked them to put the apples in the bag for security reasons.
'Security forces take off on the night of August 4'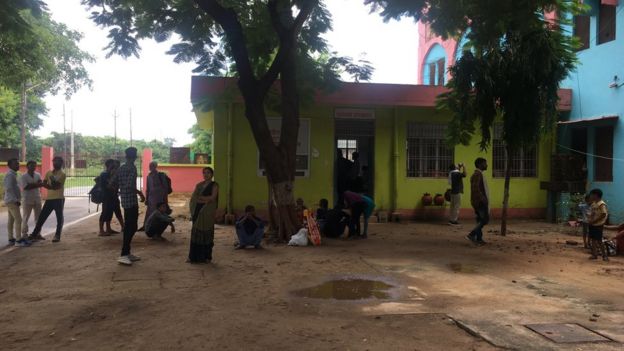 A man wiping a sweat off his shirt told me, "It's too hot, I'm going to die here."
He said, "Don't ask for my name. I'll get in trouble."
He had come to meet his brother from Pulwama, 30 km from Srinagar.
"They were picked up on the night of August 4. There were two or three vehicles of the security forces. We did not tell where they were being taken," he said.
He added, "I don't know why he was taken away. He had nothing to do with the stoning. He was a driver."
On August 5, Home Minister Amit Shah announced the withdrawal of special status of Jammu and Kashmir.
The man from Pulwama said, "If we asked the authorities, they said that he had been taken to Srinagar. After several attempts we came to know that he was brought here."
He said, "I came to Agra on August 28. We were asked to bring a letter from the local SSP for verification. I went back to Pulwama to fetch the letter. So far thousands of rupees have been spent."
"My brother is 28 years old and was pursuing a bachelor's and postgraduate degree in arts and education, but now he is jobless because he is in jail," he said.
The family of a businessman from Srinagar was sitting in a corner waiting. The expressions on their faces were as if they didn't want to talk to anyone.
The head of a prisoner's wife was covered with a scarf and they were shaking their crying baby.
After trying to calm the baby for a while, they walked out of the hall and filled the baby's bottle with water.
He was accompanied by his teenage son and they both had several questions on their faces.